Once upon a time, the Fox and the Fish found a deliciously looking piece of candy. Being Canadian animals, they were very polite and decided that the other should have it.
"You should have it, for I value your happiness more than any candy," said the Fox to the Fish.
"So do I," answered the Fish generously. "And you love sweets, you should have it, dear friend!"
And each shoved the candy in the direction of the other.
The Fox and the Fish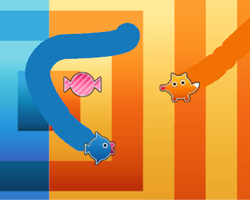 Do the polite thing – give the candy to your friend.
Don't let him give it back to you. A gift's a gift!
A ball-game with snake-like trail mechanics
for two friends on keyboard or gamepads.
Play it in the web player!
Download it for Windows/Mac/Linux!

The Fox & The Fish - Berlin Mini Jam Presentation
The game was made in about 8 hours (plus about 1 hour later adding the small stuff, like a new font, a mute functionality and a bit of bugfixing) at the Berlin Mini Game Jam together with Norbert Haacks who contributed his artistic talent and game designer wisdom to our endeavour. Special thanks to Jana Leinweber who inspired the trails idea with a comment while playtesting early on!
I'm very pleased with how this one turned out. The trail-mechanic makes the game a lot more tactical than just pushing the ball around, and the game favors the loser increasingly more, making comebacks possible: You have to push the candy on the ground of the other player – but that ground will start to shrink in the process, giving you increasingly less space to work with.
Apart from our own result, the jam set records – when I counted midway in, we had 35 people working enthusiastically on their own games! That's the most we ever had in the years we are organizing the jam, but then again, the number seems to be consistently rising. And the atmosphere at the presentations at the end is simply amazing! Iwan Gabovitch will make a blog post later at our blog, and there will probably be a video too.

Credits: