The October Mini Game Jam was a lot of fun – 17 attending people in total! Whoo! Out of the available themes, I picked "Trap". After some brainstorming, I combined it with a Match 3 concept, and finally arrived at:
Trap 3
Obviously I didn't work with an artist this time.
It draws lots of inspiration from Triple Town: You get a tile, you place it somewhere, you get the next. When 3 of them match a so-called "recipe", they merge into something stronger: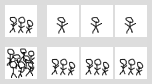 3 adjacent "person" become "people", and 3 adjacent "people" become a "crowd". They bring points per turn.
And then I added monsters. Monsters come in from the side every few turns, walk a step towards their next prey every time you place something, and later in the games, the monsters get stronger. Monsters have recipes too, for example:
If a spider and a person are adjacent to each other, they "merge" into a spider. So basically: it eats them. Same with spider and people.
Now if monsters could only eat people and cost you points, there wouldn't be much of a point in that. And here comes the trapping mechanic, which is also a recipe:
Put two green blocks down, and if a spider walks next to it, the spider and the trap transform into nothing and give you points in the process. Same with snakes, only that you first need to make the stronger snake-catching blocks and have two of those adjacent. So this here is essentially a spider trap:
If you want to see the complete list of recipes I had, you can click here or on the screenshot at the top.
So much for that. Unfortunately, I somewhere along the process I got lost and everything took a lot longer than anticipated. Most of what I described above works, but there are no points and no goal, you can't even lose. If you feel adventurous, you can try the prototype anyway by clicking here. I'll probably not finish it, but I think there's something cool hidden in there, and I might make a new prototype once I find out what it is!