June Berlin Mini Game Jam. The theme is "hunting". My secret theme is "Massively Multiplayer Offline Game". One man, one mission, 8 hours to go!
8 hours (plus 3 hours bugfixing) later I've got this:
The Great Hunt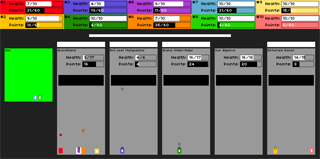 Enough with the monsters killing off the villagers!
You are a brave hunter, and you're getting paid to deal with these pests!
Well, you're not the only one hired though. And only the best will get paid.
Be the last man standing, or at least finish first with 60 points!
Play here, as always directly in your browser!
While the game is playable and actually features up to 10 players (on 4 keyboards, no less), it fails in many other ways.
The basic idea behind the game was "Too many cooks spoil the broth.": You need other players help to take down monsters, but the more players participate the less points you get. So when you're standing in front of a monster with others players beside you, you'd be like "Dude, back off, if you stay here we won't get much points anyway!", or maybe you'd switch last second to another monster.
So much for the theory. In reality everything goes down so fast (and is so chaotic) that there isn't much communciation or tactics. Fights also take too long and are not balanced, and there are not much real choices.
I have to admit that I'm not sure how I'd fix the game without introducing more complexity like power-ups. Anyways: It was a fun experiment, and lessons were learned. (The main lesson being that 10+ people games are possible in 8h. I guess I'll never learn, haha. Looking forward to next jam!)