For our March Berlin Mini Game Jam, the themes were amongst others "Thievery" and "Noise" – and that's what my friend Dominik and me combined into an ultrasonic burglary simulation:
Noise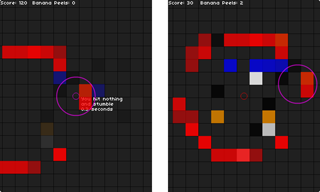 A dark room, full of jewels – and stuff to run into.
Luckily you have your ultrasonic locator to "see" in the dark.
A few moments later, you realize you're not alone.
You ready your bludgeon…
Play here, directly in your browser!
This game employs a Hidden Information Split Screen™ (which can optionally be simulated by having two monitors):