A few weeks ago I visited the A MAZE./Berlin Festival. Apart from showing Catcher and talking to lots of other indie devs, I also visited the #weirdkids workshop on digital improvisation and made a weird glitch art thing with the base projects they gave us. Proudly presenting:
press c to cat
press c to cat
press d to dance
press f to frenzy!
(If you have epilepsy, don't click on the following links!)
Start it right in your browser!
Download for
Windows / Linux / OS/X
press e to exhibit
When Fernando and Christoffer told me to give them a build after the workshop, I thought it would be shown in a presentation for a few seconds. Instead, I later found out that it was shown in the cellar exhibition. So cool!
press c to cat wasn't made for long exhibitions at all though – the cats spawned automatically, but never despawned! So soon, it looked like this, with no cats recognizable anymore, haha.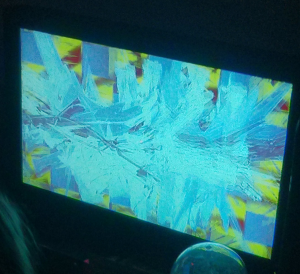 press r to react
When I entered the exhibition space, there were lots of people sitting in a circle in front of the exhibits – and it turns out they all had wondered about this strange cat game that seemingly contained no cats, only glitchy geometry. I restarted it – and finally they saw the cat and went "Ooooh", haha. It was awesome!
After the festival, I got some reviews on Twitter too:
hold f for fanfiction!
Also, lying next to the monitor, I found the BEST THING EVER – a short fanfiction!
Responsible for this lovely work of poetry are Titouan Millet, Max Cahill and Michal Marcinkowski. The first piece of fanfiction I ever received! Thanks a lot, guys!
hold c to credit
Idea and messing with stuff: Tobias Wehrum
Music: Moritz Ufer
Aaaall of the other assets (and a lot of the code) is from the weirdkids workshop!