Another month, another jam, another crazy physics game. In the beginning, this one was inspired by the awesome Drei, but it quickly steered away from that and became something… uh, else. I dunno.
Balls & Balloons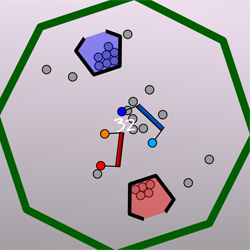 You control two balloons attached to a paddle.
Use it to get balls in your colored bottle!
Or you could just remove the ones your enemy has…
(You'll need two XBox360 controllers.)
Credits:
Programming: Tobias Wehrum
Music: Kevin MacLeod
Font: Ben McGehee