After skipping December, even the Global Game Jam in two weeks couldn't stop us from doing our own Mini Game Jam yesterday. 13 people assembled in the co.up coworking space and in 8 hours, multiple game prototypes were created for either the topic "Future" or "The End is the Beginning". Here's mine.
Extreme Painting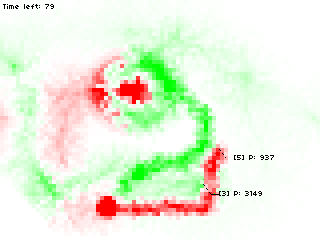 In the future, a sport called "Extreme Painting" is all the rage:
Two contestants are equipped with particle cannons and try to color as much of a field as fast as possible, only stepping on their own color.
Each field which has your color is one point, independent of how strong the color is.
But the stronger the color, the harder is it for your opponent to erase it.